Fab Fools by Jem Roberts

SUPPORT FAB FOOLS: THE LAST EVER UNTOLD BEATLES STORY!

'Part of me would sooner have been a comedian, I just don't have the guts to stand up and do it! But I would love to be in Monty Python rather than The Beatles...'
– John Lennon, 1980

There are many Beatles books out there – but NOBODY has yet told the story of the greatest band of all time's real X factor, that special something which elevated them above all their competitors – The Beatles' COMEDY. This is the last remaining untold Beatles story worth telling, and you can pre-order it TODAY.

Comedy historian and official biographer of Fry & Laurie, Douglas Adams, Blackadder and I'm Sorry I Haven't a Clue, Jem Roberts has spent a decade researching the story of the Beatles' adventures in comedy to create his magnum opus – FAB FOOLS.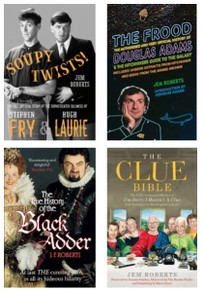 It's the full, detailed, hilarious story of how John, Paul, George and Ringo laughed their way to the toppermost of the poppermost – their classic films, cartoons and even pantomime, not to mention their experimentations with audio comedy through Sir George Martin's Parlophone comedy classics series.

The epic history brings in every comedy legend of the 1960s and beyond: George Formby, Ken Dodd, Morecambe & Wise, Cook & Moore, the Goons, Monty Python, the Bonzo Dog Doo Dah Band, the Simpsons, Peter Serafinowicz, Tenacious D, all the way to Richard Curtis and his recent film Yesterday.

And of course, no exploration of Beatles comedy would be complete without the first ever full print celebration of the Rutles – Dirk, Stig, Nasty and Barry. With full support and participation of Neil Innes and friends, FAB FOOLS documents Eric Idle and co's creation of the most influential rock and roll spoof in history.

Amusingly retold after years of dogged research, with the exclusive involvement and warm support of many key figures, FAB FOOLS, will be published by Candy Jar Books in early 2020.

IF YOU ORDER YOUR COPY TODAY, YOU CAN HELP MAKE IT THE BEST BOOK POSSIBLE, WITH ALL THE RARE VISUALS AND DESIGN FLAIR THE STORY DESERVES!

Plus, further perks await you once you have pre-ordered, including signed copies, Roberts' archive of comedy rarities, and tickets to next spring's exciting launch gig at the Fox & Hounds, Caversham – site of John and Paul's one performance as the Nerk Twins, exactly sixty years previously!

FAB FOOLS is a celebration of The Beatles' unique humour, and you can support the project by pledging your level of support. Each tier comes with its own reward. Don't be a nit – please please press to play.

Help us fund the best book possible by selecting one of the following options. All money will go towards the budget for the creation of the book:

1) PRE-ORDER – £11.99 (p+p).
Pre-ordering the book will help fund its production, ensuring FAB FOOLS is as Fab as can be! Everyone who pledges will get their name in FAB FOOLS, to thank you forever more. Your personal copy will be delivered to your door, signed by the author. Click button on the right. You can also use the donate button below (This is UK only!)

2) EXCLUSIVE ACCESS TO JEM ROBERTS' COMEDY ARCHIVE – FROM £30. Click on the donate button below.
As official biographer, Roberts' personal archive is packed with unseen material from the Hitchhiker's Guide to the Galaxy, Dirk Gently, and of course, a whole treasure trove of secret A Bit of Fry & Laurie sketches. Pledge now to meet Roberts and take a look at completely unseen classic comedy material. Visit http://www.JemRoberts.com for more.

3) TICKETS TO THE FAB FOOLS LAUNCH: FROM £50. Click on the donate button below.
In early 1960, John Lennon and Paul McCartney hitchhiked down to Caversham, a suburb of Reading, to work in Paul's cousin Bette Robbins' pub, the Fox & Hounds, and give two shows on the Saturday and Sunday nights, as 'the Nerk Twins'. To mark the 60th anniversary, the Fox & Hounds are staging a weekend of Beatle revelry, featuring the launch of FAB FOOLS with a special set of funny songs from The Beatles, the Rutles and loads more Beatley goodness, performed by THE NERK FAMILY. Author Jem Roberts will also be on hand to sign copies and discuss the creation of the book. A once in a lifetime opportunity to stand on hallowed Beatle ground, and party!
FOLLOW @FABFOOLS ON TWITTER OR /FABFOOLS ON FACEBOOK TODAY – AND HELP US SPREAD THE WORD TO BEATLE-LOVERS THE WORLD OVER!